Ice Cream Cakes Available
We do all kinds of ice cream cakes, from corporate logos to popular TV characters to classic birthday cakes. We have a design that is perfect for all ages, from kids to adults.
Or order your cake with a photo, of a person or cartoon character or famous sports figure. Whatever your interest, we have a cake design that will delight you.
Customer Comments
One customer writes:
Please forgive the delay in getting this note of THANKS for the wonderful cake you made for Danielle's 21st birthday party. Everyone at the party definitely got a chuckle upon seeing the cake. You guys are the best!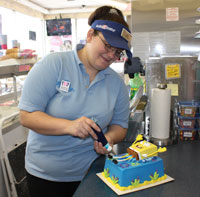 Whether you are in Mountain View, Sunnyvale, Cupertino, Los Altos, Palo Alto, San Jose, Menlo Park or anywhere in the San Francisco Bay Area, make a trip to Mountain View Baskin Robbins for the best ice cream cakes around.
Baskin-Robbins Mountain View has ice-cream cakes, pies and rolls in all sizes and flavors. Come in today and pick up a cake. Any day is a good day for an ice-cream cake! We have the largest selection of cakes in stock for easy pickup. Or order your special occasion cake 2 to 3 days ahead for a design of your choosing.
We stock many cakes in the most popular flavors such as vanilla, cookies and cream (oreo), chocolate, Jamocha Almond Fudge, and strawberry. An ice cream cake is perfect for any occasion including a birthday, wedding, holiday, or work party. Our cakes can serve anywhere from 2 to 40 people.
Online ordering is now available! Choose your cake style and size, custom writing, and pickup time online.
Need candles for your cake? We carry novelty candles in a dazzling array of colors and styles.
Print this coupon below for a discount on your next cake purchase at Baskin-Robbins Mountain View.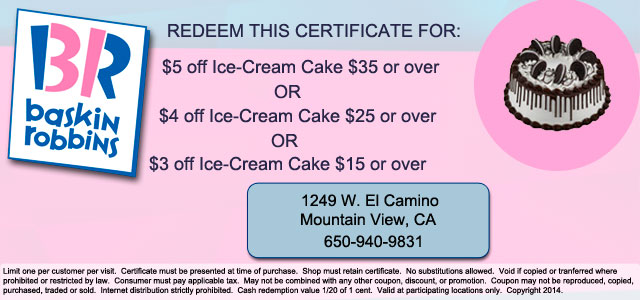 Click on coupon to enlarge and print.
We take phone orders and online orders as well as orders in person. To place an order, we need to know the ice cream or sherbet flavor, cake flavor (chocolate or vanilla), size (number of servings), and type of decoration desired.
Freeze Frame Photo Cakes
We can put any photo onto a cake for a unique twist. We have the newest equipment available in the area. Your photo is printed on edible paper using edible inks.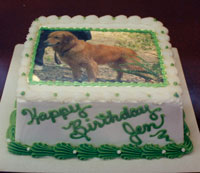 Any photo that is not bound in a book can be used. It works best if the photo is equal size or smaller than the cake that you are ordering.
We have done corporate logos, cartoon characters, sports figures, and humorous photos of the birthday guy or gal. The cake decoration will be designed to match the colors in the photo.
Custom Designed Cakes
Do you have an unusual idea for your cake? Come in and our cake designers will work with you to make a custom design. Anything you can imagine will be made into a beautiful cake design. We have done many corporate cakes for events, parties, and birthdays.